August 26, 2020 12:00 pm - 1:00 pm
Tiger Bay Club of Southwest Florida August Virtual Forum:
Breaking Down the Primary Elections with Tommy Doyle
Tiger Bay Club of Southwest Florida recently hosted Supervisor of Elections, Tommy Doyla, for a inside discussion on the 2020 Primary Elections – from social distancing and safety measures put in place at precincts, to the reliability of mail-in ballots and what to expect on Nov. 3.
TO VIEW THE VIDEO OF THE AUG VIRTUAL MEETING, CLICK HERE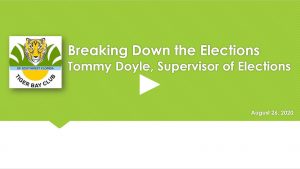 ABOUT THE TOMMY DOYLE
Tommy Doyle is a lifelong resident of Lee County with a deep-rooted passion for the county's history and traditions. His fundamental belief in our representative form of government led him to run for office. He was elected Supervisor of Elections in 2016.
Tommy successfully grew and ran his family business for over 30 years. He now applies the same formula of excellent customer service, plus money management, and the desire to embrace innovation, to running the Elections Office.
After Tommy graduated from Bishop Verot High School he enlisted in the United States Air Force and spent four years in Tampa where he worked for Joint Command at MacDill Airforce Base and trained as an Airborne Radio Operator. Tommy earned his Bachelor of Arts degree in Accounting from the University of West Florida.
Tommy is active in the community as a member of the Fort Myers Rotary Club and serves annually on an Allocations Board for United Way.
Tommy and his wife, Donna, have been married since 1987. They have three children, Ryan, Taylor, and Lauren, and were blessed with their first grandchild in 2017.