July 22, 2020 12:00 pm - 1:00 pm
 Tiger Bay Club of Southwest Florida Virtual Candidate Forum:
City of Fort Myers Ward 6 Candidates
Tiger Bay Club of Southwest Florida recently hosted The City of Fort Myers City Council candidates for Ward 6 at a Virtual Forum.
Candidates included:
The diverse candidates covered issues including police reform, infrastructure, economic development and more.
To view the video of the July 22 virtual forum, CLICK HERE
 MORE ABOUT THE CANDIDATES
Why are you running for office and what do you hope to accomplish?
Darla Betzer Bonk: My goals for joining City Council will be to fight for attainable home ownership, improve water quality (pressure & coloration), support strategic growth, to bring care and concern for all walks of life, including and especially the homeless of Fort Myers, help younger people who don't think their voice or vote counts to find their voice, and make Fort Myers an option to which my kids would want to return after college. I want there to be opportunities for people of all ages, walks of life, socio-economic backgrounds. I hope to accomplish hope again in the hearts and minds of people to believe people in government DO care, DO listen, and DO make decisions based on the constituents for which they were hired to serve.
Diana Giraldo: I am passionate about service and the City of Fort Myers as a community. I have been involved in the community in different capacities and I thought about my purpose, skills, gifts and the support around me; it is time to take "being the change" to the next level. I want to champion the vision of a thriving livable community, focusing on smart growth and infrastructure expansion to incentivize different transportation alternatives. This can be a catalyst for economic development and impact our public health. I bring my diversity and dynamism to the City Council as the first Latina elected to public office in Fort Myers.
Margy Metzler: To me running for City Council is an act of service, not a part-time job or a stepping stone to another position. We need strong leadership on City Council and I hope to bring that to the job. I have a strong business background and we need people in positions of leadership that understand the economy and what the growth coming to SW Florida will mean to us as a whole. I will do everything in my power to guide the city through this growing period. I have served on the Economic Development Advisory Board for the City as well as on my community's HOA.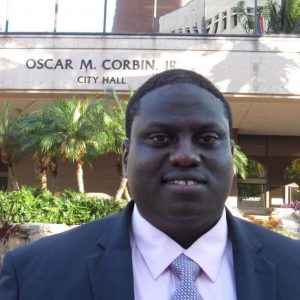 Jacques A. Thomas, Jr.: I am running for office to be a voice for the working class of Southwest Florida. Also to be a voice for the millennial's in our city. There is a huge elderly population within this city however, we also have a growing population of millennials in Southwest Florida. We need equal representation within the tables of leadership. There has been a lack of transparency within city council due to the same procedures and routine leadership. I want to bring new perspectives and fresh ideas so that we all can be represented. Furthermore, with this housing issue I would like to attack the housing crisis by implementing a rent control in our complexes. Also, I would like to push for wages that equate with our living expenses.
Jared Wray: I am running for office because I am unhappy with how our local government is being ran, and I want to make positive changes in my community. I decided to run last year, when the Fort Myers City Council narrowly voted to defund local non profit organizations within the city. These groups were very beneficial to the city and took up only a fraction of a percent of our cities budget. When I'm City Councilman, I will work hard to bring back the funding that these groups need. I also hope to accomplish things such as, common sense police reform, expanding green energy in our city, reducing homelessness, and reducing traffic. I am proud to be a fighter for working class families in the city.