April 1: Opioid Crisis
Tiger Bay Club Hosts Dave Aronberg for an in-depth look at the Opioid Crisis
Prior to the pandemic, the opioid addiction crisis in Florida seemed to be decreasing; however, due to COVID-19, reports show opioid usage across the country is on the rise again. Extended periods of isolation and stress continue to contribute to increasing percentages of opioid use, relapse, and overdose. Join us on Thursday, April 1 to learn more  about what's happening on the statewide policy level from expert and advocate Dave Aronberg.
Thursday, April 1, 2021
Registration and networking at 11:30 a.m.
Lunch and Program from noon to 1 p.m.
Location: Broadway Palm
1380 Colonial Blvd., Fort Myers
Cost: In Person | Tickets are $25 for members; $35 for non-member
Virtual | Zoom tickets are $10
More about Dave Aronberg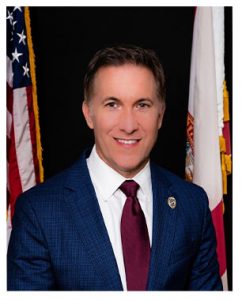 Dave Aronberg was elected State Attorney for the 15th Judicial Circuit in November 2012 and re-elected without opposition in 2016 and 2020. He is a former Assistant Attorney General, White House Fellow and Florida Senator.
As State Attorney, Aronberg leads a team of 120 prosecutors and 220 professional staff in five offices throughout Palm Beach County. Aronberg's leadership has led to a significant increase in conviction rates for both felonies and misdemeanors, a decrease in the number of juveniles direct filed into adult court, and a greatly improved working relationship with local, state and federal law enforcement agencies.
Aronberg was elected to the State Senate in 2002 as its youngest member and served until 2010. Focusing on criminal justice and consumer protection issues, Aronberg passed major identity theft and port security legislation and served as the Chairman of the Military Affairs and Domestic Security Committee. He also served as Chair of the Everglades Restoration Committee, where he advocated for accelerating water storage projects and additional State and Federal support for Florida's "River of Grass.
In 2010, Aronberg returned to the Florida Attorney General's Office as a Special Prosecutor for Prescription Drug Trafficking. In his role as the Attorney General's "Drug Czar," Aronberg led an anti-pill mill initiative that helped clean up the pain clinic industry and reduced the record number of people dying each day from oxycodone abuse. His work to save lives from drug overdoses continues as a top priority to this day."
HAVE A QUESTION?
Please don't hesitate to send in your questions prior to the event to info@swfltigerbay.org OR ensure you write them.
KNOW BEFORE YOU GO
In order to assure you and the theatre's employees will be safe, Broadway Palm will be taking temperatures before you enter the building and requiring a face mask/covering be worn at all times, with the exception of when you are enjoying your meal.
For more information on the health and safety measures they have taken CLICK HERE.
We remain committed to bringing you informative, bipartisan content on social, civic and political issues. Stay tuned for the latest updates surrounding issues facing our local government and Southwest Florida.