TREASURER – JERRON K. HULL, P.E.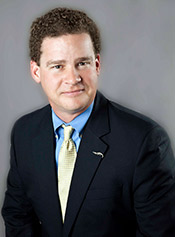 Mr. Jerron Hull, Treasurer of the Tiger Bay Club of Southwest Florida, is a sixth generation Floridian born in LaBelle, Florida. Jerron currently lives in Punta Gorda with his wife Ashley and 7 year old son Brooks.
Jerron is the Chief Executive Officer of AIM Engineering and Surveying, Inc. and AIM Construction Contracting. He has 19 years of experience in the engineering and construction fields. Jerron oversees the management of design, survey, planning, water resources and construction engineering and inspection projects located throughout Florida and Mississippi. He serves both firms in an administrative and technical standpoint to ensure constant quality control. His diverse background includes such positions as Survey Party Chief, Engineering Technician, Transportation CAD Designer, Project Engineer, Assistant Project Manager, Project Manager, Quality Assurance Manager, and Project Principal.
Jerron is active in his professional community. He is a registered Professional Engineer, member of the Florida Institute of Consulting Engineers Transportation Subcommittee, member of the Florida Engineering Society, and served as a Board Member for the Lehigh Chamber of Commerce.
Jerron is an avid outdoorsman and loves landscape photography, fishing and hunting. His favorite places are the Big Cypress National Preserve and Chokoloskee, Florida.