September 26, 2019 11:30 am - 1:00 pm
Join Tiger Bay Club of Southwest Florida on September 26 for an afternoon with Raymond Sandelli
On August 2nd, Raymond Sandelli was appointed by Governor Ron DeSantis to the District 3 seat of the Lee County Board of County Commissioners, vacated due to the death of Larry Kiker. Commissioners serve as the vital leadership within county government from setting land use policy to approving the budget of the county. How have his first two months in office gone and what does he bring to the job from his professional career and military service? What plans does he have for the future of Lee County? Join our luncheon to learn more about our new county commissioner!
---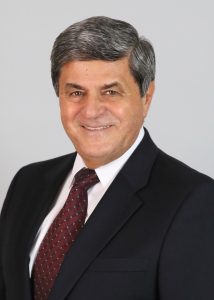 Raymond Sandelli of Bonita Springs, completed eight years of military service as a Naval Officer and Aviator, receiving his wings and designation in March 1971. While deployed aboard the USS Independence (CV-62), he completed two cruises to the Mediterranean Sea. He participated in Sixth Fleet operations during the October 1973 Middle East War and 1974 Cyprus conflict. He reported to VT-86, Naval Air Station, Pensacola, Florida, in March 1975 as an Advanced Training Command Instructor for Naval Flight Officers. His final tour was as a member of the Navy's Flight Demonstration Squadron, the Blue Angels.
Sandelli is a managing partner at CRE Consultants where he advises clients on healthcare, office, retail, industrial, land and property management. He began his brokerage career with CBRE, Inc. as an office leasing specialist in Seattle, Washington. In 1995, he became the senior managing director of the CBRE Tampa office and in 2000 he assumed responsibility for the Florida region. In 2007, he began managing statewide oversight for lender and servicer representation for the reposition of all property types through CBRE's Recovery and Restructuring Services program.
Don't miss out on this hot discussion.
Date: Thursday, September 26th
Registration and networking at 11:30 a.m., with lunch and program at noon.
Location:
The Marina at Edison Ford
2360 West First St.
Ft. Myers 33901
Cost:
Tickets are $35 for members; $45 for non-member
HAVE A QUESTION?
Please don't hesitate to send in your questions prior to the event to info@swfltigerbay.org OR ensure you write them.
Ticket Type
Price
Cart
September 26 Luncheon - Meet The New Commissioner

$

35.00 –

$

45.00