September 23, 2020 12:00 pm - 1:00 pm
Tiger Bay Club of Southwest Florida hosts District 19 Congressional Candidates on  September 23 
This November, Florida will have a new U.S. Representative for Congressional District 19, which spans coastal Southwest Florida from Boca Grande to Marco Island. Join Tiger Bay Club on Wednesday, Sept. 23 for an insider discussion with Byron Donalds (REP) and Cindy Banyai (DEM) to learn more about their stances ranging from the state of Florida's economy, affordable healthcare, unemployment, immigration, national debt, education and more.
Registration is $10, and can be completed by selecting the link below. Webinar details and viewing link will be sent via email following registration.
Should you have any questions, please contact info@swfltigerbay.org.
We remain committed to bringing you informative, bipartisan content on social, civic and political issues. Stay tuned for the latest updates surrounding issues facing our local government and Southwest Florida.
ABOUT THE CANDIDATES
Republican Candidate – Byron Donalds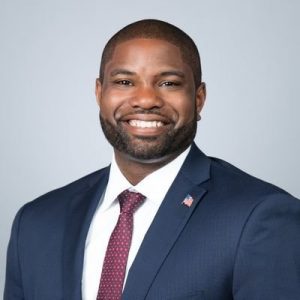 Born and raised in Brooklyn, New York, Byron Donalds is the product of a single-parent household.Throughout his life, his mother made every sacrifice possible in order to give him the best opportunity at the American Dream. That philosophy his mother taught him, striving to leave future generations better than the current, is what leads him in his work, his home life, and as a state legislator.
Byron attended Florida State University and graduated in 2002 with bachelor of arts degrees in finance and marketing. Byron's career path has included working in the finance, insurance, and banking industries in Southwest Florida.
Elected to the Florida House of Representatives in 2016, Byron currently sits on five committees and honorably serves as the chairman of the Insurance and Banking Subcommittee. He was named a Champion of Economic Freedom for his A+ rating for the 2017 Legislative Session by Americans for Prosperity. For the 2018 Legislative Session, he was the recipient of the Award for Conservative Excellence by the American Conservative Union Foundation. In 2018, Byron was honored by the Florida Council on Aging for his work in preventing elder abuses in financial transactions. During his time in the Florida House, Byron has primarily focused on elder affairs, criminal justice reform, and striving to make sure each child in Florida has access to a world-class education.
Having served the community in a multitude of ways since he moved to Collier County in 2003, Byron was previously appointed by Governor Rick Scott to the board of trustees for Florida Southwestern State College. From 2004 to 2016, Byron served as a youth leader in his church where he mentored middle school and high school students.
Byron Donalds lives in Naples, Florida, with his wife, Erika, and their three sons. Having spent his adult life in business, service, and leadership in his community, he will continue leading a prosperous and conservative Southwest Florida and fight for those same values in Washington, DC.
Democratic Candidate – Dr. Cindy Banyai
A mom of three native Floridians, a small business owner, and part of the faculty of Political Science and Public Administration at Florida Gulf Coast University, Dr. Banyai has been a decorated professional in the field of community development for almost 20 years. She's collaborated with nonprofits around the world on issues such as homelessness, children's services, education, and sustainable development. She's running for Congress to be the servant leader Southwest Florida deserves, fighting for our water, our health, and our community. Dr. Banyai believes together we can create a Southwest Florida where the sun shines on everyone.