April 25 - The Craft Beer Boom
Tiger Bay Club of Southwest Florida hosts Bone Hook Brewery on April 25 for inside look into the craft beer industry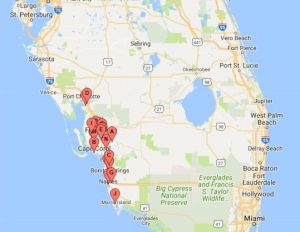 With more than 18 craft breweries spanning the stretch of Punta Gorda to Marco Island (see adjacent map), the reach is far and wide, with loyal fans flocking to new locations offering taprooms, game room spaces, eclectic food and food trucks and a variety of original craft-brewed options. Even more, you can now find offerings in local stores, shops and restaurants.
A craft culture has emerged, where beer-minded people are coming together to try new concoctions.
A recent article in the April Gulfshore Life by Justin Paprocki noted that the craft beer trend in Southwest Florida mimics what's happening nationally.  The number of breweries nationwide has doubled since 2012, according to the Brewers Association, which represents independent beer makers. The growth in the industry has been tied to the growing popularity of beer coming from small breweries. And while sales from Big Beer like Miller Lite, Coors and Bud have remained flat, craft beer was up about 6 percent in 2016.
So what does this mean in terms of economic impact? For one, many brewing facilities are operating out of abandoned mills and vacant manufacturing spaces or once-defunct commercial spaces. The breweries are helping to energize commercial lots, retail strip centers and attracting other local businesses desiring to reap the benefits of these lively, and well-attended busy breweries.
This flourishing business is also creating new jobs, generating tax revenue for the region from rents, property taxes, business taxes and the like, and is a growing economic engine.
But, will this industry soon hit a bump in the road and quickly lose its pace, or will surpass the typical "trend" and have far-reaching impacts for years to come.
Hear first-hand from Bone Hook Brewing Company about how the industry is doing, challenges faced and impacts to Southwest Florida. Founded in 2016 in Naples by three local businessmen interested in brewing unique beers that they could share with their friends and family in the spirit of good times, Bone Hook Brewing Company has quickly gained accolades and awards. Last summer, the brewery was warded a silver medal at the U.S. Open Beer Competition.
EVENT DETAILS
Date: Wednesday, April 25
Registration and networking at 11:30 a.m., with lunch and program at noon.
Location:
The Marina at Edison Ford
2360 West First St.
Ft. Myers 33901
Cost:
Tickets are $35 for members; $45 for non-member
HAVE A QUESTION?
Please don't hesitate to send in your questions prior to the event to info@swfltigerbay.org OR ensure you write them down the day of the event.